In the non-profit world, every dollar counts.  And so does every hour, especially when you have limited people resources.
It was those two factors that led Teresa Coles, the Controller for Rescue Mission Alliance in Southern California, to look for a more effective approach towards cash management and ultimately, cash flow.
RMA operate seven thrift stores, a primary source of revenue for the non-profit, which has served the homeless for more than 43 years.  It has grown from the first location on 6th Street in Oxnard to multiple locations in four counties throughout Southern California.  Several distinct programs are offered at multiple locations, which provide a "Full Range of Care" for addressing the needs of the hungry, homeless and destitute.
In April of 2017, RMA made the decision to install the AMSEC Cash Wizard smart safe to manage the cash in their largest thrift store.  The results were immediate and impactful.
"As minimum wage continues to go higher, we were looking for more efficient ways to utilize our manpower, " Coles said.  "By not having dual custody of counting the money – which meant having two people spend two hours per day, five days a week in the office – that is 20 hours per week they can spend on other revenue-generating activities."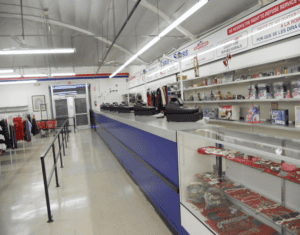 With an enthusiastic thumbs-up from her CFO, Coles installed the CashWizard in three additional thrift stores in August, and is adding the revolutionary smart safe in RMA's other three stores this fall.
"It has freed-up time for employees to take more merchandise on the floor, to tidy-up the store, or take care of our customers," Coles said, "all of which generates revenue while counting money does not…The CashWizard counts the money and submits the files to the bank to make the deposit."
Along with regaining valuable time for her staff to focus on the business, Coles has utilized the CashWizard's cloud-based reporting technology to more effectively monitor and improve cash flow.
"The CashWizard transmits deposits every night and the next day the money is in the bank," said Coles, who then utilizes the GARDA courier service to pick-up the cash from the smart safes and transfer to the bank once per week.  "It has greatly improved the cash flow process.
"The CashWizard is set-up to send an e-mail notification when the courier picks-up the cash," Coles added.  "I do not have to look it up.  I receive a report to reconcile the invoice from GARDA to ensure we are being charged appropriately."
One final benefit for Coles and the Rescue Mission Alliance team has been the peace of mind that comes with an improved smart safe cash management process and the opportunity it provides to focus more time on serving the citizens of Southern California.
"All of our staff seems to love it," Coles said, regarding the CashWizard smart safe.  "None of them cared much for counting money.  In a thrift store there are lots of small bills.  We used to fill-out reports when making cash drops to the bank and the whole process is now gone.  They simply feed the safe and attach the receipt, which provides a record of who dropped what."