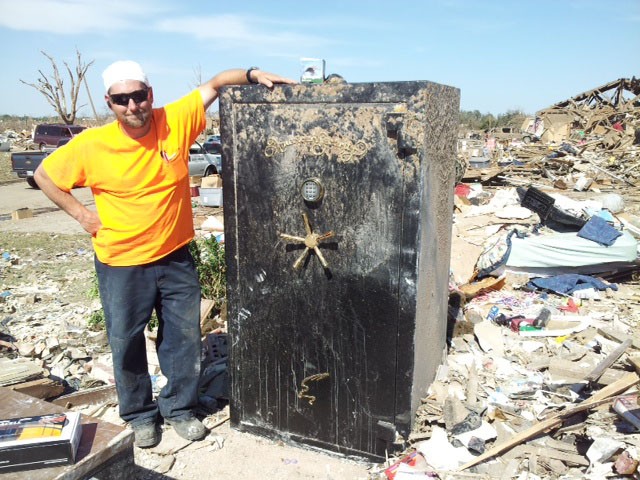 AMSEC BF® GUN SAFE SURVIVES OKLAHOMA TORNADO
On May 20th, 2013, a powerful EF5 tornado ripped through the small town of Moore, Oklahoma. With wind speeds up to 200 mph, the tornado leveled homes, office buildings, and most tragic of all, completely destroyed Plaza Towers Elementary School.
Among all of the amazing stories of courage and hope that emerged from the Moore Oklahoma tragedy is the story of one resident, whose story is a little less tragic thanks to his recent purchase of an AMSEC Gun Safe. The powerful tornado completely destroyed Toby Striegel's home, but his AMSEC Gun Safe stood strong, and made it through with only minor damage.
Dear American Security,
I purchased an AMSEC BF6636 some time around 2008/2009 with the thought of protecting my firearms and other valuables in case of a house fire or burglary (which I had previously experienced in the spring of 2007 in my previous home). When I would show off my new safe to friends and family that came to visit, I would always joke and say that after having it bolted down to the concrete slab in my closet, it would probably be the only thing left standing if a tornado hit my house. I never imagined how right I would turn out to be. Thank You for a fantastic safe! Worth every penny! Thanks also to Don's Mobil Lock Shop in Norman Ok, for all their help!
Sincerely,
Toby M. Striegel
Norman, OK