Your guns and ammo, contained in unyielding security
Whether you're a sportsman or collector, how you store your firearms is a key component of gun safety. Add extra security measures to protecting what you hold most valuable by exploring gun safe options that fit your unique gun storage situation.
A Discernable Difference
Why buy a gun safe from American Security?  
American Security knows, when it comes to the protection of firearms, consumers have many choices, and we want to be your #1 choice for gun safes. That's why, since 1946, we've kept the main thing, the main thing! Your gun safe should provide high security protection from loss of any kind.
American Security designs, engineers, tests, retests, and certifies each our safes to ensure quality performance in the field.. We over a range of sizes and ratings so each person can choose the safe that best suits their needs. Our nationwide network of dealers gives you the opportunity to touch and feel our safes before deciding what safe best fits your needs.
Furthermore, we're the longest established safe manufacturer in North America and largest domestic manufacturer of custom safes in the US, shipping over 100,000 products each year.
If it's got to be safe, it's got be American Security.
Handguns & Pistols
American Security doesn't make pistol boxes - we make pistol safes.
Their compact design makes them easy to conceal in a bedside table, in an office drawer, your trunk or just about anywhere. Solid steel construction, a mechanical lock and four anchor bolts provides security and quick access too.
Rifles & Shotguns
Gun safes for your long guns
Long-barreled firearms require a storage solution that takes their size into account. If you own rifles or shotguns – or both – , you'll want to choose a safe that provides both security and safety. One of the chief reasons to purchase a gun safe is to keep guns away from kids and other unauthorized users who may have access to your house. Choose the level of protection that's right for you and your collection.
Choosing A Gun Safe
5 things to consider when considering a gun safe.
There are many things to consider when considering the purchase of a gun safe. To help you decide what safe is right for you, we've put together a short and simple list of things to evaluate in your search.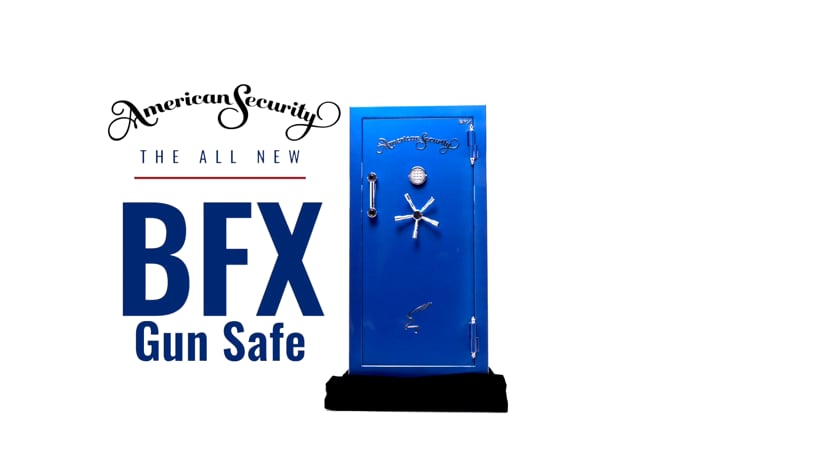 A quality, high security gun safe, like those made by American Security, is your first line of defense when it comes to safe storage of firearms. Determine the type of gun safe that's required to store your full collection, in terms of size and number of guns, as well as ammo and accessories. Then choose the level of burglary and fire protection that best fits your budget.
Gun Safe Owners Share Their Story: The Paradise Fire
The Paradise California Fire destroyed 13,972 residences and 528 businesses. When residents were allowed to return to where their homes once stood, the landscape was leveled except for a lone American Security gun safe. Although the hinges were burnt completely off, it still took locksmith, Mike Harper, 2.5 hours to drill out the lock and pry open the BF-7240.
When the door was finally opened Mike's customer gasped with joy "the paperwork is still perfect – that's all our birth certificates, pink slips, diplomas…look they're perfect!" and looking over her gun collection she continued to marvel that they were in "perfect condition."
Need Help Deciding?
Your safe should be tailored to your needs. Find the one that measures up to whatever you're protecting.