American Security's BFX Gun Safe has for many years been the preferred choice by gun owners for its U.L.-certified RSC Level I burglary protection and ETL-certified 120 minute fire protection. That's reason enough to choose the BFX Gun Safe for oneself or as an impressive gift for someone special.
Now the BFX line is available in a stunning, new two-toned color called "Black Diamond", adding to its long list of exceptional features.
Of course you can still rely on the proven ½" Solid Steel Plate Door and Active 4x Locking System that the BFX Gun Safe is known for. Take a look at this  BFX Video to appreciate more of the long-life advantages of a luxury BFX Gun Safe.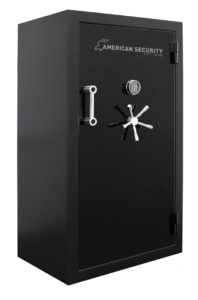 The BFX Gun Safe has the industry's most flexible interior, along with these features:
Door Organizer

Storage for Long Guns or Assault Rifles on Door

Spy-proof, key-locking dial with decorative five-spoke handle and a convenient pull handle.

Mirrored Back Wall for Added Interior Visibility

AC Power outlet with Removable Cord

LED Light Kit
All of American Security's BFX safes are UL fire rated, and independently tested by Underwriters Laboratories, a trusted brand in testing, inspection, and certification services.  Should a fire occur, you can rest assured that your valuables will be safe.  Even if everything around your safe burns to the ground, the valuables stored inside will remain protected.
The BFX Series is a high-quality fire safe worthy of investment that can save you money over time. You won't need to rent a safe deposit box or pay for off-site storage for your items. When you keep your items in a safe on your property you can control who has access to them, increasing security.
American Security recently celebrated its 75th year anniversary delivering excellence in gun safe technology, for home and business. An established brand you can rely on, whether you're in the market for a top-rated gun safe for yourself or as a "gift" for someone special. Be sure to trust the name that thousands of customers rely on — American Security.
If you have questions about purchasing a gun safe, contact an American Security Dealer in your neighborhood. These local dealers are experts in the industry and have access to all the information you need to make a savvy buying decision. If you are a dealer attending the Shot Show in Las Vegas in January, take time to look us up at Booth #14634 to see our latest products!!